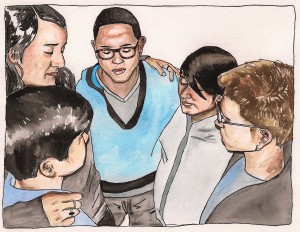 The Seattle Journal for Social Justice just published a new issue that includes a cluster of articles and art on trans issues.  You can read the introduction I wrote for the cluster here. 
Here is an interview with advocates working on Medicaid access for trans people in three states. 
Here is an article by my colleagues at SRLP about the role of lawyers in trans resistance. 
Read all articles in the issue here.
We're having a symposium featuring several articles from the cluster at Seattle University School of Law on October 20 from lunchtime until evening open to the public and free. Please come!
Paisley Currah and I co-edited the two-part special issue "The State We're In: Locations of Coercion and Resistance in Trans Policy" in Sexuality Research and Social Policy: Journal of NSRC Vol. 4. No. 4 (December 2007) and Vol. 5, No. 1 (March 2008). 
Read the introduction to the first volume here and read the introduction to the second volume here. A table of contents for both issues and links to most of the articles are below. 
Part 1 (December 2007): Table of Contents 
Introduction to Special Issue The State We're In: Locations of Coercion and Resistance in Trans Policy, Part 1, Paisley Currah and Dean Spade
Unraveling Injustice: Race and Class Impact of Medicaid Exclusions of Transition-Related Health Care for Transgender People, Pooja S. Gehi and Gabriel Arkles
Sex Workers, Fem Queens, and Cross-Dressers: Differential Marginalizations and HIV Vulnerabilities Among Three Ethnocultural Male-to-Female Transgender Communities in New York City, Sel Julian Hwahng and Larry Nuttbrock
Seeking Refuge Under the Umbrella: Inclusion, Exclusion, and Organizing Within the Category Transgender, Megan Davidson
Transgender Health Benefits: Collateral Damage in the Resolution of the National Health Care Financing Dilemma, R. Nick Gorton
Momentum: A Photo Essay of the Transgender Community in the United States Over 30 Years, 1978–2007, Mariette Pathy Allen
Part 2 (March 2008): Table of Contents
Introduction to Special Issue The State We're In: Locations of Coercion and Resistance in Trans Policy, Part 2, Dean Spade and Paisley Currah
Talking, Gawking, or Getting It Done: Provider Trainings to Increase Cultural and Clinical Competence for Transgender and Gender-Nonconforming Patients and Clients, Christoph Hanssmann, Darius Morrison, and Ellery Russian
Retelling Racialized Violence, Remaking White Innocence: The Politics of Interlocking Oppressions in Transgender Day of Remembrance,  Sarah Lamble
Gender Identity and Hate Crimes: Violence Against Transgender People in Los Angeles County, Rebecca L. Stotzer
The Nonprofit Industrial Complex and Trans Resistance, Rickke Mananzala and Dean Spade
And by the Way, Do You Know He Thinks He's a Girl? The Failures of Law, Policy, and Legal Representation for Transgender Youth in Juvenile Delinquency Courts, Jody Marksamer
Stepping Back, Looking Outward: Situating Transgender Activism and Transgender Studies – Kris Hayashi, Matt Richardson, and Susan Stryker Frame the Movement, Paisley Currah